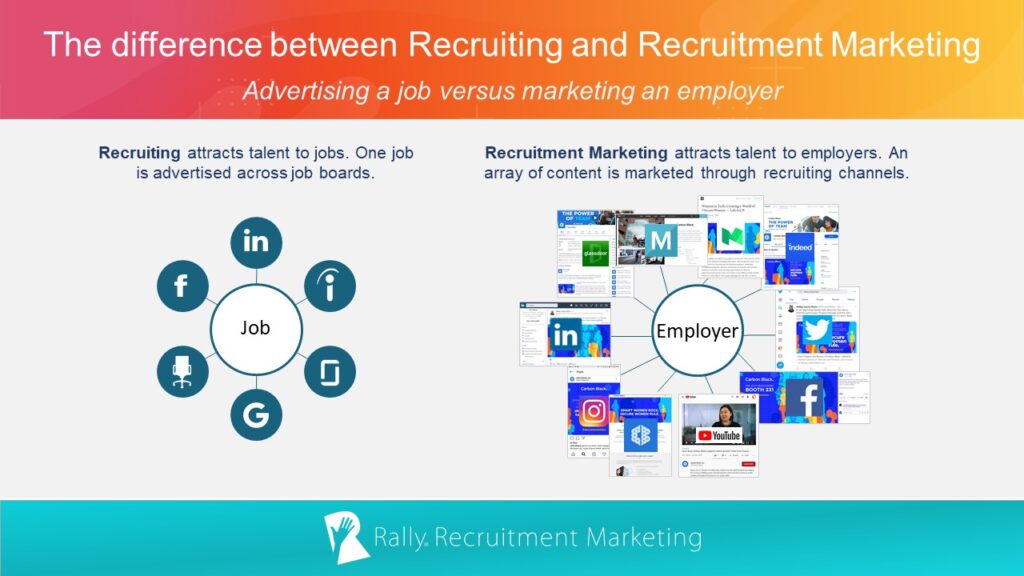 1. Use Paid and Organic Marketing
Almost all organisations use social media in their brand-building strategy. It is, however, challenging to use social media to promote company culture.
It is easy to use social media to promote your recruitment content and build a brand. However, you cannot use all social media platforms for recruitment marketing. Your target candidates spend more time on certain social platforms. So, you must know these social platforms. For instance, you can post open roles on LinkedIn and use Instagram Stories to target Gen Z and millennial candidates.
You can use both paid and organic marketing to achieve your goals. Creating recruitment content for your organisation can help attract potential candidates to the organisation.
2. Use Owned Media Channels
You can use your owned media channels, such as your blog and your website, to attract potential candidates. So, use owned media channels to build your brand and market your recruitment content. Owned media channels can help generate interest and awareness for potential candidates.
For example, you can create a Careers page on your company's website. Update and add new content to your Careers page regularly. Potential candidates visit these types of web pages. Therefore, you can use these pages to build the image of your company.
It is even better to ask your marketing team to help you create a web page or a dedicated section on your company's website. Use your Careers web page to promote your recruitment content and your brand. The web page can attract potential candidates to your company.
3. Leverage Internal Subject Matter Experts
It is very important to build and grow social media profiles for your company. However, people do not just follow companies on social media. They mostly follow other people. The purpose of recruitment marketing is to attract real candidates to your company.
Your company needs to create and regularly update online profiles. It is, however, more important to leverage internal subject matter experts to build the reputation of your company. Internal subject matter experts can share valuable recruitment content to attract potential candidates to your company. You can also hire creative recruitment agencies to help you with creating content and finding the best talent for your company.
You can, therefore, help your company's leaders and your colleagues create the best content in your field. They can use the content to position themselves as experts in their fields. Developing internal subject matter experts can help you attract potential candidates.
4. Use Newsletters
Email marketing is still effective. Do not just use email marketing to market your business. Use email marketing to engage and nurture potential candidates.
It is better to build relationships with potential candidates. You will email newsletters to your email subscribers. Email marketing can help you develop a talent pool through engagement and personalisation.
For instance, you can send potential candidates your company culture news, new roles and business updates through email. These candidates will always know what is going on in your company.
Some of these candidates will open and read your email newsletters. Therefore, you can engage with some candidates.
5. Repurpose Your Content
Successful content marketers repurpose valuable content. Do not just focus on creating new content from scratch. It is much better to leverage your existing content. Repurposing your recruitment content, for example, can increase your reach and reduce your costs.
If you are short on budget, capacity or resources, you should focus on repurposing your content. For instance, if you host a webinar, you can repurpose your webinar into short videos for LinkedIn and quote and link to your video in your blog content. You can also upload short videos to your Careers page.
You can share your recruitment content on multiple platforms without spending more time and resources creating new content.